SPOT U JET
- Jetta is a sweet, 2005 grulla tovero mare that will do anything she can to please you. Jetta is going really well now! She has about 30 days training on her, and is picking up everything wonderfully! This little girl is destined for the reining world. She already sits down when she stops and has flying lead changes that are as smooth as glass. We cannot wait! Price goes up with training.
COURTESY POSTINGS FOR CLIENTS
DOMINO - This is one heck of a colt. He is show halter trained, body clips, bathes, lunges, loads and is great with his feet. He is registerable with the sporthorse registry and is NAERIC approved. Domino has wonderful movement and will excel in many different disciplines. He is a good colt that you can take in any direction.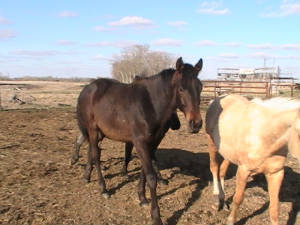 TATER - Tater is a beautiful colt that shows lots of potential for many disciplines. He has wonderful movment and a great attitude. He is 1/2 quarter horse 1/2 thoroughbred with a star, strip, snip and two hind stockings. With his smooth movement and natural balance, take him home and move him in any direction you want!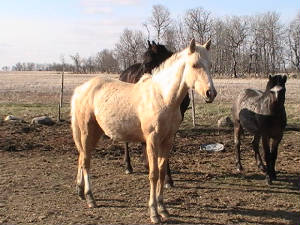 SADDLE - This is a Double T show saddle with a 15" seat and a floral stamp. I purchased it last spring and have used it only a handful of times (10 to be exact). The reason I am selling is the saddle does not fit me properly. It has been cleaned regularily and kept covered in or house at all times. It does not come with the cinch.
ENGLISH BREAST PLATE - full size dark oil english breast plate with tie down. I am selling because I do not use it and have only used it 5 or 6 times. Well taken care of.